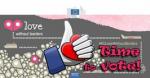 The EU "Love without borders" facebook competition, as part of the celebrations of 25 years of Interreg cooperation, has been a huge success, receiving many entries from across the continent. The submission period is now over and voting is open.
Go to the photo album on our facebook page to see the entries, and vote for your favourite pictures and stories. Don't forget to share them too, to encourage your friends and colleagues to vote.
Voting is open until midnight on April 3rd, and the 20 most "LIKED" (= voted) stories, plus 5 "wildcards" will go to the Jury, for a chance to win a romantic weekend in the Mosel region! The winner will be announced on 9th May.