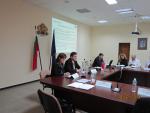 On February 28, 2013 in Haskovo, on March 14, 2013 in Edirne, on March 26, 2013 in Yambol and on March 29, 2013 in Kirklareli four information days for potential beneficiaries under the Third Call for proposals were held under the Bulgaria - Turkey IPA Cross-border Programme. The events were attended by 525 participants from both partner countries, where they had an opportunity to receive useful information on the possibilities of the program and the application requirements for the Third Call for proposals. Experts from the Joint Technical Secretariat, the National Authority and the Managing Authority presented to the potential beneficiaries the guidelines for preparation of project proposal; detailed information on the application package (application form and annexes) and the general requirements for submission of project proposals. The experts answered the questions related to the management of the Programme and the submission of the project proposal under Third Call.
A Partnership Forum was held on March 14, 2013 in Edirne, which was attended by 201 representatives from Bulgaria and Turkey. During the Partnership Forum the potential applicants had an opportunity to exchange information on their partner needs and their project ideas; networking activities, round table discussions, and partnering meetings also took place.
HERE you can find the presentation from the events.