The regional consultation forums (RCFs) in the eligible programming area represent one of the main elements of the programming process. The RCFs in the cross-border area were held in Haskovo on 19th March 2014 and in Edirne on 20th March 2014. Overall more than 100 participants attended the two meetings.
Main focus of the events was on the results of the baseline and SWOT analysis, the identification of challenges and needs and the future thematic orientation of the future Bulgaria-Turkey IPA CBC Programme 2014-2020.
The final decision on the thematic orientation of the future IPA CBC Programme will be taken on the forthcoming 2nd Joint Working Group meeting for the preparation of the future Programme, which will take place on 13th May 2014 in Ankara, Republic of Turkey.
Regional consultation in Haskovo, Republic of Bulgaria, 19th March 2014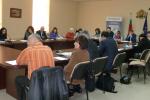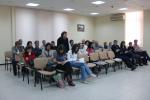 Regional consultation in Edirne, Republic of Turkey, 20th March 2014