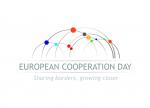 For a third year, on 21st of September 2014 traditionally Europe and the neighboring countries will celebrate the European Cooperation Day. The aim of the initiative coordinated by the European Commission and supported by the Committee of the Regions and the European Parliament is to highlight the achievements of the cooperation between European countries and regions.
The Joint Technical Secretariat in cooperation with the Ministry of Regional Development of the Republic of Bulgaria (Managing Authority) and Ministry for EU Affairs, Republic of Turkey (National Authority) of the Bulgaria-Turkey IPA Cross-border Programme will celebrate the European Cooperation Day on 21st of September 2014 in Edirne, Republic of Turkey under the motto "Together again in the new programming period" with the participation of Programme beneficiaries, local authority representatives, students, journalists and citizens from the cross-border region.
The goal of this year's event is to promote the main priorities of IPA CBC Bulgaria – Turkey Programme 2014 -2020 and namely: environmental protection, sustainable tourism, youth inclusion and entrepreneurship support. Within the event a bike-tour and a water regatta will be organized. The tours aim at cleaning polluted water and land areas by the participants. After the event a joint meeting to celebrate the European Cooperation Day 2014 will take place in Edirne with the participation of official guests from Turkey and Bulgaria, at which students who took the most active part in the activities described above will be awarded. The celebration will be closed with an entertainment event for the participants.
For additional information, please contact the Joint Technical Secretariat.
The agenda of the event can be found HERE.